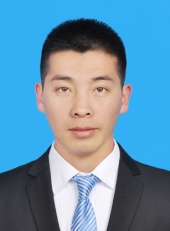 Gender: Male
Date of birth: 06/1987
Place of birth: Chengde City, Hebei Province
E-mail: yanzhen20071239@126.com
Phone: +86 132-6990-1732
Education
• Post-doctoral research on Paleontology and Stratigraphy, Institute of Geology, Chinese Academy of Geological Sciences, Beijing 07/2016-Present
• Ph.D of Science in Paleontology and Stratigraphy, Peking University, Beijing 09/2011-07/2016
• Bachelor of Engineering in Prospecting Technology and Engineering, Northeastern University, Shenyang, Liaoning Province 09/2007-07/2011
Academic Research Field
• Spatial and temporal distribution patterns and palaeoclimatology and palaeoenvironmental implications
of the Carboniferous-Permian carbonate buildups from Inner Mongolia
• Construction models and palaeoenvironmental implications of the Cambrian microbialites from
Shandong Province, North China
Scientific Research Project
• Sedimentary characteristics and environmental implications of the Cambrian thrombolites in the Zhangxia Formation from Shandong Province, North China, 2017.07-2020.06
Publication
• Zhen Yan, Jianbo Liu*, Yuanlin Sun, Haifeng Wang, Baoqi Huang, 2017. Sedimentary characteristics and origins of Late Pennsylvanian-Early Permian carbonate mud-mounds at the Shangdan section, Inner Mongolia. Palaeoworld, 26(4): 612-630.
• Zhen Yan, Jianbo Liu*, Yoichi Ezaki, Natsuko Adachi, Shengxian Du, 2017. Stacking patterns and growth models of multiscopic structures within Cambrian Series 3 thrombolites at the Jiulongshan section, Shandong Province, northern China. Palaeogeography, Palaeoclimatology, Palaeoecology, 474(10): 45-57.
• Zhen Yan, Jianbo Liu, 2016. A review of carbonate mud-mounds and some thoughts on Carboniferous-Permian carbonate mud-mounds from Inner Mongolia. Journal of Stratigraphy, 40(4): 429-438. (in Chinese with English abstract)
• Yoichi Ezaki, Jianbo Liu, Natsuko Adachi, Zhen Yan, 2017. Microbialite development during the protracted inhibition of skeletal-dominated reefs in the Zhangxia Formation (Cambrian Series 3) in Shandong Province, North China. Palaios, 32(9): 559-571.
• Jiateng Li, Jianbo Liu, Yongchao Sun, Zhen Yan, Rongchang Wu, Renbin Zhan, 2016. On the Lower Ordovician Lunshan Formation in Lower Yangtze Region, South China: Its petrology, stratigraphy and paleogeography. Journal of Palaeogeography, 18(3): 411-423. (in Chinese with English abstract)
• Yuxuan Jing, Jianbo Liu, Zhen Yan, Yongchao Sun, Zhenqing Xu, 2015. Reconstructing sea-level changes from types of storm deposits: An example of the Middle and Late Cambrian at Xiaweidian section of Western Hills, Beijing. Journal of Palaeogeography, 17(5): 653-668. (in Chinese with English abstract)
Social Experience
• Beijing Science and Technology Week--Volunteer 05/2013
• Member of Li Siguang Geologic Teaching Group 2013-2016